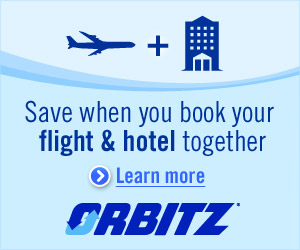 Orbitz Features:
Orbitz "Deal Detector": Allows you to set your own price for your vacation. Orbitz.com will email you if they meet or beat your price for airfare or hotels.
Orbitz Price Assurance: If you book a flight or hotel and someone else books the exact same flight or hotel for less, they will refund you 110% of the difference in Orbucks. Each time the price drops and another customer books your same itinerary for a lower amount, you get more Orbucks.
Free "Orbitz TLC Traveler Update": An online tool that you can use to exchange up-to-the-minute facts with other travelers about travel conditions, along with FAA postings, right from your cell phone. You can exchange information, such as how long the security line is, or where the good parking is located at the airport.
Orbitz Travel Blog: The Orbitz Travel Blog: Insider Tips & Expertise.
Orbitz Hotel Low Price Guarantee: If you find the same hotel room, for the same dates, that you booked on Orbitz for a lower price online, they will refund the difference and give you a $50 Orbitz coupon for future travel.
Orbitz Low Fare Promise: If you find airfare that is at least $5 less than what you paid on Orbitz and they will give you a $50 Orbitz coupon for future travel. 
Orbitz TLC Insider Podcasts:  Destination guides that you can listen to from your computer or download on your iPod.
Our Editor's Review:
We love the destination guides on
Orbitz
, such as "
Taste the Good Life…Your Guide to Food & Wine Vacations at Orbitz
". This is one of the great benefits of a large travel site, like Orbitz. The Orbitz Insider Podcasts are pretty awesome too. Currently, you can choose from about 16 major cites, but we hope they add more. They will tell you "
how to glide past the bouncer at the hottest industry night in Vegas (without tipping
)", where to find a "
Seattle hangout where beer is often cheaper than water
", and "the
only place on earth to taste Twinkie Tiramisu
". Check this out before you hit your destination!
Orbitz
has one of the best price guarantees in the travel business, with their
"Price Assurance"
. Simply put, if any Orbitz customer ends up booking the exact same hotel night or flight for less, they will give you "Orbucks" for the difference plus an additional 10%.  Orbucks are hotel credits you can use on a future booking with Orbitz. Also, if you go out on your own and find a lower priced hotel or airfare on a competitors website, Orbitz will give you a whopping $50 credit.
Orbitz Coupons and Deals:
40% OFF Luxury Hotel Deals on Orbitz
Savings such as 3rd Night FREE and up to 40% OFF!
Orbitz Fees &  Policies:
$25 Orbitz fee to cancel a hotel booked with a "Orbitz Hotel Low Price Guarantee".
$50 Orbitz fee to cancel a vacation package (airfare is

not

refunded).
All cancellations on Orbitz must take place more than 24 hours prior beginning of trip.
Flights are not refundable, but you may be able to obtain a credit and this varies per airline.
In lieu of online booking fees, Orbitz will add a $25.00 USD (non-refundable) fee to each air ticket purchased by phone.
$30.00 service fee to make changes to airline tickets. 
A refund from Orbitz can take about 60-90 days.
*
Based solely on research done by TravelSiteCritic.com, these figures may be inaccurate and are subject to change.Verify policies with Orbitz.com before you book. Please be aware of airfare taxes & fees, applicable to any booking that includes airfare.
________________________________________________
Disclosure of Material Connection: Some of the links in the post above are "affiliate links." This means if you click on the link and purchase the item, I will receive an affiliate commission. Read our review disclosure for more information.
Please be aware of airfare taxes & fees.
Orbitz Reviews | Orbitz.com

,