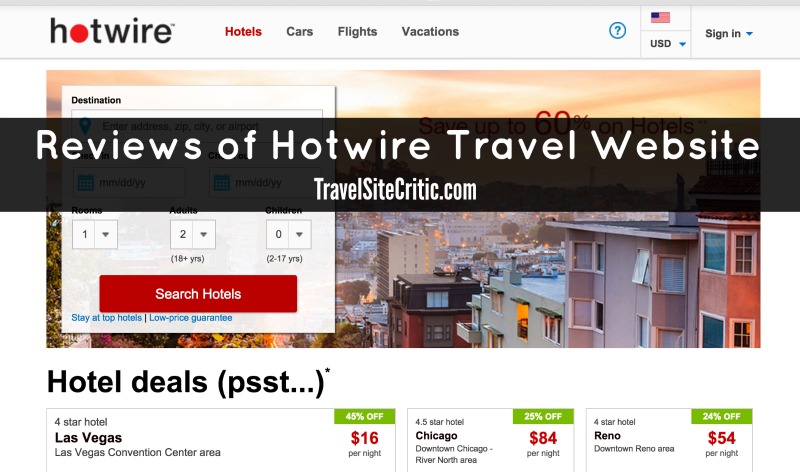 Hotwire is a budget travel site that specializes in offering exclusive negotiated discounts on hotels, airfare, and car rentals. 
Where to find the best deals on Hotwire.com:
Best Travel Deals  – Where Hotwire lists their cheapest rates for hotels in popular destinations.
Hotwire Hot Rates – When you search for a hotel on Hotwire, they will show you their Hot Rate deals first. These are deals that they have exclusively negotiated with hotel suppliers. Instead of having weekly sales and coupons, Hotwire works to offer discounts that are below regular published hotel rates on regular basis. But there is a catch! When you book a Hot Rate hotel you will not know the hotel name or address until after you've completed your booking. You get to pick the neighborhood that you want to stay in, along with the hotel's star-rating that would meet your expectations.
Hotwire also has Hot Rate Flights available where you won't know the airline or flight times until after you book (but they will depart anytime between 6am and 10pm on the dates you select). These aren't available for every itinerary and will pop up as the first search result if they are. We've seen discounts are much as $65 off a round trip flight, but fares vary widely. Hot Rate flight bookings are non-refundable.
Which hotel star-rating should you pick on Hotwire?
Here's how Hotwire rates their hotels and what brands you could expect, but the specific brand is not guaranteed –
5-star Hotels

– Intercontinental, Le Meridien, The Luxury Collection Hotels & Resorts
4.5 star Hotels – Westin, Intercontinental, W Hotels, Omni Hotels, Sofitel Hotels
4 star Hotels – Westin, Hilton, Hyatt, Sheraton, Kimpton, Crowne Plaza
3.5 star Hotels – Radisson, Hyatt, Sheraton, Hilton, Crown Plaza,
3 star Hotels – Ramada, Holiday Inn, Best Western, Hampton, DoubleTree
2.5 star Hotels – Holiday Inn Express, Ramada, Comfort Inn, Best Western, Howard Johnson
2 star Hotels – Howard Johnson, Super 8, Travelodge, Rodeway Inn, Days Inn, Econo Lodge
1 star Hotels – Super 8, Travelodge, Rodeway Inn, America's Best Value Inn, Knights Inn
We suggest that you stick with booking 4-star and 5-star hotels on Hotwire, as the quality is rumored to be better. Do not count out the 3.5-star hotels (especially in areas where 4-star hotels do not exist) as some amazing deals can be found here (we've seen $26 a night advertised, before taxes/fees). Keep in mind – the quality of a Hotwire 3 star hotel may not be what you typically would expect of a 3 star hotel as rated on another travel site. Hotwire customers have been lured into booking cheap 2 star or 3 star hotels that end up not meeting their expectations and then they come onto websites (such as this one) to complain that Hotwire is a scam. In our opinion, this doesn't make Hotwire a scam. Just remember that you get what you pay for, and Hotwire is no different. True, you can book a super cheap 2 star hotel, but you probably will be less than happy. Don't say we didn't warn ya!
How does Hotwire's 'Bill Me Later' With PayPal Credit Work?
If you don't have a credit card, you can finance your Hotwire trip by just selecting PayPal at checkout (formerly Bill Me Later). This service is run by Paypal Credit and there isn't any complicated application to fill out, but they will check your credit to see if you qualify. After you're approved, you can choose the payback terms that work best for you. The best part is that there is no annual fee. If you already use PayPal, you can also use it to pay for your travel on Hotwire.
Have HotDollars? Here's how to use them:
If you create a Hotwire account, you'll receive Hotwire HotDollars that are each equivalent to one U.S. dollar that you can redeem on the cost of any hotel or car rental booking on Hotwire. They expire after 1 year, so you need to use them pretty quickly. When you are logged into your account and are finalizing a booking for a hotel or car rental, you can choose to pay with HotDollars.
Hotwire Low Price Guarantee:
Hotwire guarantees that you will not find a lower price for an 'identical booking' anywhere online within 24 hours of booking a hotel, vacation package, or car rentals. It appears that their guarantee does not apply to flights. If you find a lower price, Hotwire will refund the difference. The best part about their guarantee is that it applies to their Hot Rate hotels! So if you are not happy with a Hot Rate deal that you got, see if you can find a better price online and ask for a refund to submit a claim.
Hotwire's Cancellation Policy:
According to Hotwire's website, "For all Hotwire Hot Rates, bookings are final and cannot be cancelled, refunded, exchanged, transferred, or changed, even for a fee." However, if you booked a standard rate hotel you may be able to cancel. You'll need to log in to your account to view the cancellation policy for the hotel you booked. If you need to cancel a flight, it's going to depend on which airlines you are booked on and what their rules are. Since cancellation and change fees can be steep, we highly recommend that you obtain travel cancellation insurance here after your booking.
Write your own review of Hotwire.com!
Have you used Hotwire.com and have an experience to share? We want to hear it! Add your own review of Hotwire in the review box below and on Facebook here. All customer reviews are moderated by a human being and will be posted LIVE on TravelSiteCritic.com as soon as they have been reviewed by someone here on our team. Thank you for contributing!
Cast your vote for the Top 10 Travel Sites by clicking one of the dynamic rating stars for Hotwire.com below, or on any of our travel website reviews. A user rating of 1-star indicates you had a horrible experience (it's the lowest you can go and brings down the total rating), while a user rating of 5-stars indicates you had the best experience. The travel websites with the most 5-star votes end up on our Top 10 List.
If you like these travel deals and reviews, follow us over on Facebook and say hello. We want to get to know you! Get the best travel deals sent to your inbox by subscribing to our newsletter here.
Disclosure of Material Connection: Some of the links in the post above are "affiliate links." This means if you click on the link and purchase the item, I will receive an affiliate commission. Read our review disclosure for more information.
Hotwire Reviews | Hotwire.com

,