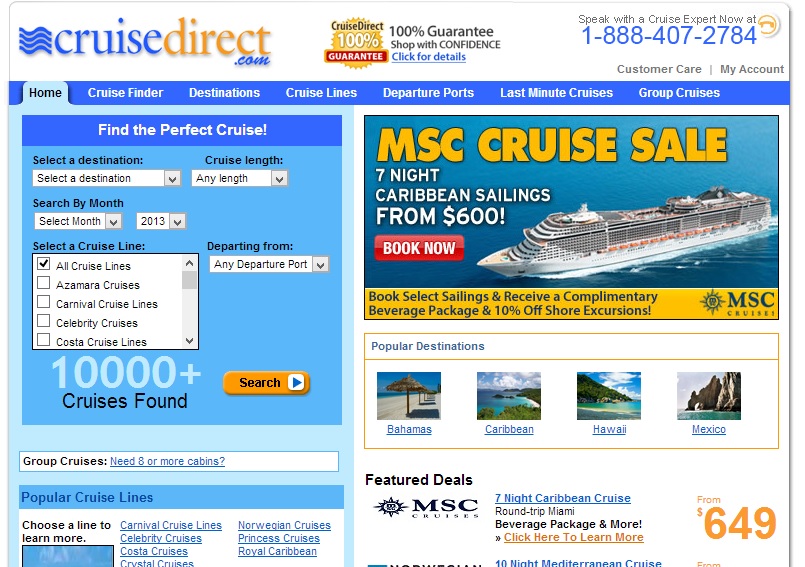 CruiseDirect.com is a website that allows you to compare 15 cruise lines at once, including Carnival Cruises, Celebrity Cruises, Royal Caribbean Cruises, Disney Cruises, and Princess Cruises to destinations such as the Caribbean, Hawaii, Bahamas, Mexico, Alaska, Africa, Australia and Europe from over 22 departure ports including Galveston, Miami, Los Angeles, Fort Lauderdale, Seattle, New York, and Port Canaveral.

USER EXPERIENCE

Cruise Direct is a one-stop-shop for your cruise vacation, and makes comparing prices a breeze.  Simply go to the "Cruise Finder" tab to begin your search by destination or by cruise line.  We like the variety of options available.  For instance, if you don't know where you want to go, choose "any destination" or "any departure port" to get some ideas and pricing. You are also able to search within a "date range", so you can see what dates offer the best pricing. The booking process is simple and allows you to select your cabin.

FEES

There are no booking fees on CruiseDirect.com.  The cancellation policy varies depending on cruise line, which is clearly posted in the terms of each cruise.  As a word of caution, it is highly recommended that you purchase airfare (if needed) together with the cruise. This is because"booking air through the cruise line protects you if your flight is delayed and you either miss your cruise or are running late. If you are running late for your cruise, cruise line representatives will make every effort to get you to the ship before departure. If you miss your cruise altogether, the cruise line will reimburse you up to $500 in costs incurred while catching up with your ship at its next port of call. In addition, air rates offered by the cruise lines are often less expensive than those available to the general public–especially on holidays and during high seasons–and the departure times and dates ensure that you will reach your departure port on time, barring any prolonged delays".

PRICING

Although you can compare cruise prices on larger travel agency websites, such as Expedia, we prefer the Cruise Direct website because that is their specialty and the Cruise Finder search engine has flexible options to help you find the cheapest price.  If you are traveling with children, search the Disney and Holland America cruise lines because they generally offer a discounted rate for children. Most other cruise lines charge full-price for children.  Cruise Direct has a 24-hour Best Price Guarantee and Low Price Assurance which protects you if the cruise fare drops before you make your final payment, they will adjust the rate for you.




REPUTATION

We found few customer complaints about Cruise Direct online.  However, we found reviews that special requests were not communicated properly to the cruise line, and that their customer service agents are slow to respond. Overwhelmingly, the customer feedback about Cruise Direct seems to be positive.

UNIQUENESS

Cruise Direct specializes in cruises and has many features that you won't find on other travel agency websites. Instead of paying for your cruise at the time of booking, Cruise Direct offers flexible payment plans. At the time of booking, you pay a refundable deposit and pay the final payment at least 60-75 days prior to departure depending on the cruise line. Another nice feature is that Cruise Direct will give you a dedicated cruise agent for the duration of your trip from booking to departure.
Reviews Disclosure: Some of the links on this website are affiliate links. This means if you click on the link and purchase an item, I receive an affiliate commission. It doesn't cost you more money & supports our work on this website. Thank you! Read our reviews disclosure for more info.
____________________________________________________________________________________________________________
Cruise Direct Revews | CruiseDirect.com
Cruise Direct Reviews | CruiseDirect.com

,