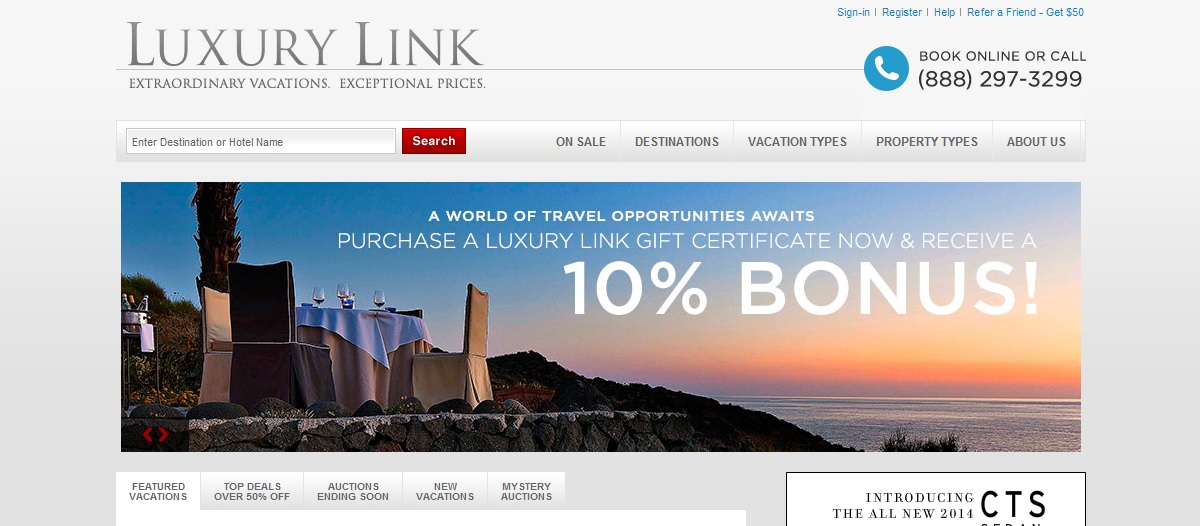 The Luxury Link travel website offers luxury vacation packages at savings of up to 65% off.  You can choose to reserve at the published fixed rate or bid in a travel auction for the most savings.  Popular destinations include the Caribbean, Tahiti, Hawaii, the U.S. and Europe.  Luxury Link's exclusive packages often include luxury extras such as massage treatments, hotel transfers, multi-course meals and taxes.

USER EXPERIENCE

Some people are wary of online travel auctions, and are afraid that Luxury Link is a scam.  Be rest assured that Luxury Link has been online since 1997, and is not a scam. Luxury Link is a legitimate travel auction website, and we have used them ourselves without issues.  Just read carefully over the terms & conditions prior to starting a bid, so that you know exactly what fees you may be charged.  Each travel auction has its own terms and blackout dates will generally apply.  Prior to placing a bid, we recommend that you read the Luxury Link Auction Guide.  To summarize, there are two types of travel auctions on Luxury Link:

Classic Auction

– These auctions originated on Luxury Link as a new way to book travel.  A low starting bid is offered and you can place a single bid to win, or continue to bid as other travelers attempt to outbid you.

Mystery Auction

– Bidding starts at just $1 and lasts for 7 days.  The catch is that you don't know the destination until you win the auction. Visit the Luxury Lounge for hints on the current mystery destination.

The selection on Luxury Link is a little sparse compared to other travel websites and you may not find a specific hotel that you intend to stay at.  As Luxury Link specializes in luxury travel auctions, you won't find the flexibility here to customize a vacation package as you do on other websites, and you will not find budget properties. Furthermore, most packages do not include airfare.

FEES

The fees that Luxury Link charges for fixed-price bookings and travel auctions are as follows.  We recommend that you purchase travel cancellation insurance from SquareMouth.com.

Fixed-price reservations:

 $40 non-refundable booking fee; $35 change fee if applicable; $35 – $100 cancellation fee.  All changes and cancellations are subject to additional hotel cancellation policies and fees.

Travel auction reservations

:  Non-refundable, no cancellations. You may change your travel dates at any time without charge, subject to hotel change policies and fees.

PRICING

As for travel auction websites, you get more value for your money on Luxury Link. Unlike Priceline or other hotel bidding sites, taxes are generally included in the price.  The prices on Luxury Link often include three or more hotel nights, and most Luxury Link auctions include free dining credits, spa treatments or other fun extras. When you add up how much those extras would cost you otherwise, the savings are incredible. If you don't feel comfortable bidding in an auction, Luxury Link has many fixed price offers that don't require any bidding at all.  However, the best deals are found when you bid in a travel auction.  Make sure to check out Luxury Link's "AUCTIONS CLOSING SOON" page where it is easiest to save up to 65%, because the bidding is about to come to a close.  At times there will be less than one hour to bid, and this is where amazing deals are made.




REPUTATION

Luxury Link has been featured on Forbes and the Travel Channel, and are regarded as one of the best kept secrets in travel.  We have received very few customer complaints about Luxury Link.

UNIQUENESS

Do you want to stay in an giant Italian castle with a group of friends?  We found one on Luxury Link for groups as large as 20!  When you break down the pricing per person, it can be more affordable than a hotel and much more memorable.


Reviews Disclosure: Some of the links on this website are affiliate links. This means if you click on the link and purchase an item, I receive an affiliate commission. It doesn't cost you more money & supports our work on this website. Thank you! Read our reviews disclosure for more info.
____________________________________________________________________________________________________________
Luxury Link Reviews | LuxuryLink.com

,