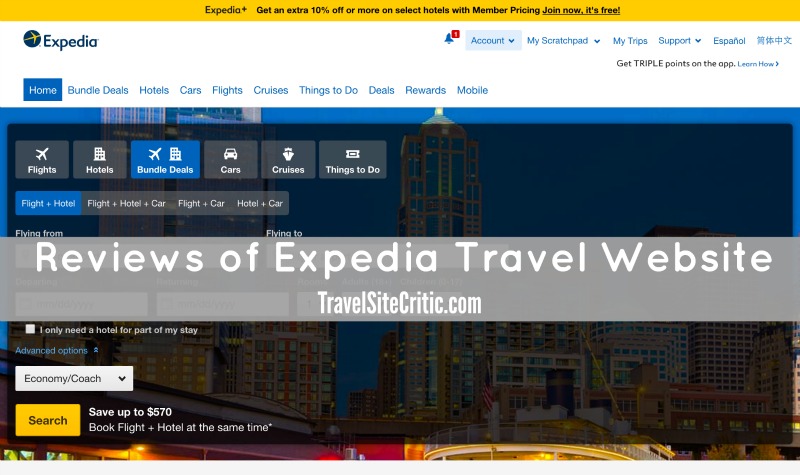 Where to find the BEST DEALS on Expedia:
Last Minute Deals – If you plan to travel within the next week, this is where to go to for Expedia's last minute travel deals.
Expedia+ Rewards Member Program:
Expedia has a rewards program that you should absolutely join before you book anything on Expedia. You can sign up with your Facebook account or an email address, and this will unlock special "member-only" pricing throughout the Expedia website. When you make a booking you will also rack up points that you can use to get a discount on a future booking. For example, you get 2 points for every dollar that you spend on a hotel, and once you have 3,500 points Expedia will give you $25 towards a future hotel booking. Just go here and become a member to join.
Expedia Guarantees:
If you can find a better price anywhere else online, Expedia has a pretty awesome guarantee. For flights, vacation packages, rental cars and cruises you only have 24 hours to find a better price, but if you do, Expedia will not only refund you the difference, but they will give you $50 to book a future trip. For hotel bookings, you have all the way up until 2 days before your travel date to claim a Best Price Guarantee refund. If you're a member of Expedia+, they'll give you up until Midnight the night before your stay to claim a Hotel Price Guarantee (this is another reason to join their reward program before you book anything).
Expedia Cancellation Policy:
You can generally cancel most reservations within 24 hours to avoid paying fees. However, some flights and hotels are nonrefundable and most cancellations are made after 24 hours have passed. Since fees can be high, we highly recommend that you obtain travel cancellation insurance here to protect yourself. Expedia doesn't charge any cancellation or change fees, but they will charge you whatever fees are charged by the airlines or hotels that you booked with. These fees typically range from $150 to $300 for flights and at least one night hotel stay. These fees vary widely per booking.
Expedia Reviews:
Expedia has claimed that 99.85% of their customers are satisfied with their experience. However, we found online complaints from customers claiming that their Expedia reservations were cancelled, even after Expedia claimed that their reservation was "guaranteed". These rampant complaints have caused many to lose their trust in Expedia and there are entire websites dedicated to declaring Expedia a scam. Here on TravelSiteCritic.com, we've gotten more customer complaints about Expedia, relative to the competition. You can read this reviews below.
We do not feel that Expedia is a scam – but you need to be cautious and read the fine print. Keep in mind that most people who have good experiences with Expedia are not going to go out and leave positive comments on forums and create websites called "ExpediaIsAwesome.com".  Rather, it's usually angry customers with bad experiences that make their voices heard on the internet. Expedia is one of the largest online travel agencies, so there are bound to be complaints, and that is likely why the number of them may seem excessive. Just use caution, and confirm everything directly with the airlines and hotels before you go. We recommend that you do this no matter who you book with.
Leave your own review of Expedia.com!
Have you used Expedia.com and have an experience to share? We want to hear it! Add your own review of Expedia in the review box below and on Facebook here. All customer reviews are moderated by a human being and will be posted LIVE on TravelSiteCritic.com as soon as they have been reviewed by someone here on our team. Thank you for contributing!
Cast your vote for the Top 10 Travel Sites by clicking one of the dynamic rating stars for Expedia.com below, or on any of our travel website reviews. Cast a vote of 1-star, 5-star, or anything in between. A user rating of 1-star indicates you had a horrible experience (it's the lowest you can go and brings down the total rating), while a user rating of 5-stars indicates you had the best experience. The travel websites with the most 5-star votes end up on our Top 10 List.
If you like these travel deals and reviews, follow us over on Facebook and say hello. We want to get to know you! Get the best travel deals sent to your inbox by subscribing to our newsletter here.
Disclosure of Material Connection: Some of the links in the post above are "affiliate links." This means if you click on the link and purchase the item, I will receive an affiliate commission. Read our review disclosure for more information.
Expedia Reviews | Expedia.com

,