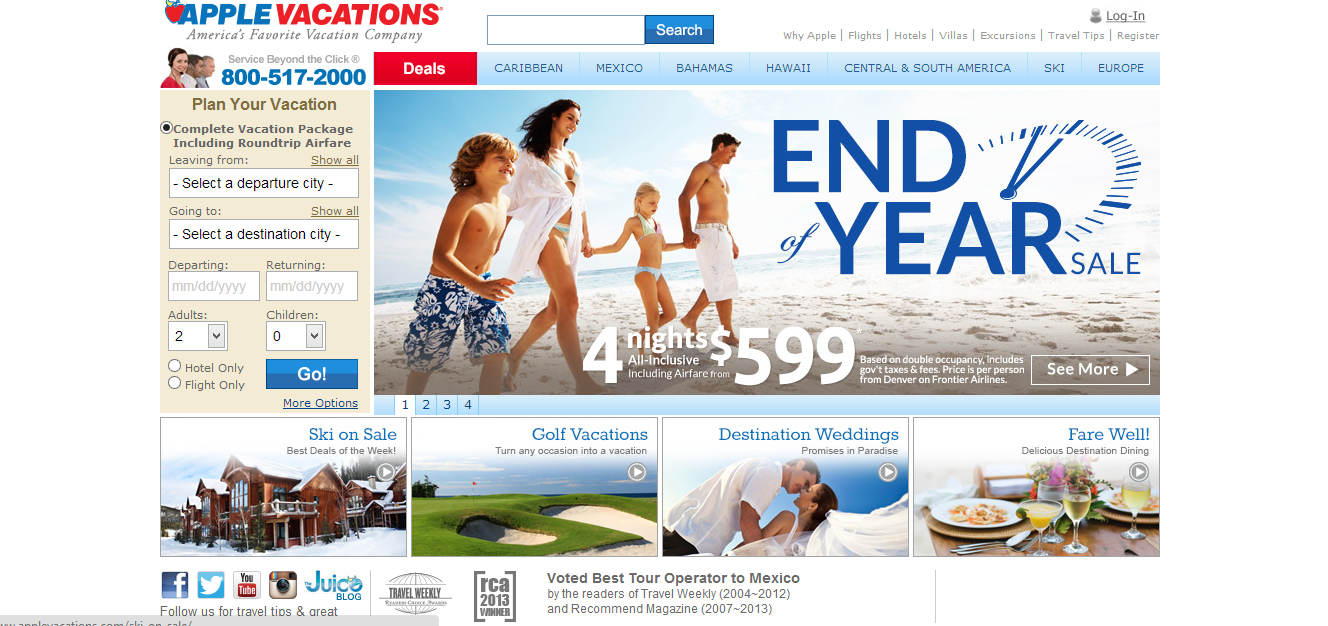 Apple Vacations is a travel website specializing in vacation packages to over 40 beach and ski destinations, primarily in Mexico and the Caribbean, departing from over 200 cities in the U.S.  While you are on your trip, Apple Resort Representatives will meet you at the airport and will greet you when you arrive at the resort to make sure that your vacation goes as planned.

USER EXPERIENCE

The Apple Vacations website is fairly easy to navigate and has many options available to find the cheapest deals from your nearest departure city (see "Pricing" below).  However, we couldn't find a rate calendar, which would make it so much easier to find the best price around our preferred travel dates.  We liked that many of the flights on the Apple Vacations website are non-stop from major cities, as they know this is what most customers want.  The hotel reviews are all written by previous Apple Vacations customers, and this really helped us to weed out the bad apples (hotels).

FEES

We found the Apple Vacations cancellation fees to be very steep.  We cannot suggest enough that you obtain travel cancellation insurance prior to, or soon after, booking your vacation (we recommend SquareMouth.com).  These fees charged by Apple Vacations are in addition to regular airline and hotel cancellation penalties:

Cancellations between 44-31 days to departure = $125+ per person fee
Cancellations 45 days or more to departure = $45+ per person fee
If you cancel within the last 30 days prior to departure, you may be subject to 100% penalty (Translation = no refund for you)

PRICING

We really like the Apple Vacations "Vacation Deals" page and also the "Super Sale" page to find the best prices.  You simply plug in your departure city and it quickly shows you to the cheapest Apple Vacations deals.  To find the cheapest deals, sort the results by "Price".   We found the vacation deals for large groups to be especially awesome.  If you are planning a wedding, family reunion or other group getaway for more than 20 people, Apple Vacations has great deals available.  However, we found that booking the advertised promotions are not as easy as they should be, especially when you have a family.  For instance, we found a promotion advertising  "Two Kids Stay Free", yet we were unable to get a quote for that hotel in which 2 kids were actually free.  In fact, we found many family vacations that were ridiculously expensive.   Taxes and fees in the amount of $1016 were added to one family vacation, and we did not see where it itemized these out for us.   The Apple Vacations pricing is much more favorable when booking couples vacations for only two people.  If you are booking a family vacation, we recommend Travelocity.




REPUTATION

Apple Vacations has been in business for over 40 years and claims that over 70% of their customers are repeat customers.  This tells us they are doing something right.  Apple Vacations has also earned an impressive number of awards, including Travel Weekly's Readers Choice: Best Tour Operator to Mexico (2004-2012), and they have sent more people to the Dominican Republic than any other travel agency. They are also on TravelSiteCritic.com's Top 10 Travel Sites list, as rated by their customers.  Apple Vacations has received some of the best customer reviews here at Travel Site Critic, and we found very few customer complaints online.  If you have a problem with your reservation, Apple Vacations customer service can be reached at trips@applevacations.com, and be sure to leave a comment below for our readers.

UNIQUENESS

Apple Vacations is the only travel agency that we know of with their own hotel rating system.  Apple Vacations hotel ratings are given by Apple Vacations travelers who complete a survey after their trip. Each hotel and resort is given an Apple score, and quite simply the more Apples the better.  The "Golden Apple" hotels are the cream of the crop, and are only given to hotels and resorts that earned exceptional ratings on the Apple Vacations traveler survey. If you see a little plus symbol (+) next to an Apple it means the hotel offers more services or amenities compared to other hotels with the same Apple rating.
Reviews Disclosure: Some of the links on this website are affiliate links. This means if you click on the link and purchase an item, I receive an affiliate commission. It doesn't cost you more money & supports our work on this website. Thank you! Read our reviews disclosure for more info.
____________________________________________________________________________________________________________
Apple Vacations Reviews | AppleVacations.com

,