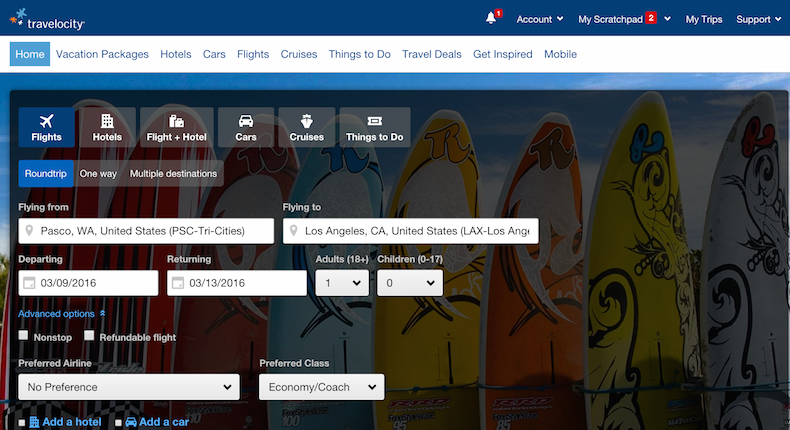 Travelocity is a online travel agency with some unique features such as Travelocity FareWatcher Plus (a free subscription service that tracks flight pricing for up to 10 city pairs of your choice), a Travelocity Guarantee that will price match within 24 hours, plus $50 toward next purchase, and Travelocity Travel Protection Plan that reimburses you for cancellations, in some instances, up to $2000 per person.
---
USER EXPERIENCE
We like that Travelocity charges zero booking fees for cars, cruises, most hotels and vacation packages, as long as you book online and not on the phone. Beware that booking fees may apply to certain hotel bookings and flights on Travelocity. At this time, it appears that booking fees do not apply to "GoodBuy" hotels or non-prepaid hotel bookings. To see what booking fees you are being charged before you complete your booking on Travelocity, look closely at the "Tax and Fee Total" in the "Price Summary" area of the screen. The Travelocity booking fees (if any) are included here.
On the downside, whatever happened to the Travelocity Dream Map?  The dream map tool used to be one of the best on Travelocity, which allowed you to search for fares only by "price" and "departure city", in that you could price out destinations where you can afford to fly.  We hope that Travelocity brings back the Dream Map.
FEES
Flights – No online booking fee on vacation packages that include a flight and hotel, however a booking fee applies to flight-only bookings on Travelocity.
Hotels – No online booking fee on most bookings, otherwise the fee will be listed as "taxes and fees" on the "price summary" page.
Cars – No online booking fee
Vacation packages (hotel+flight) – No online booking fee. There is a fee to book over the phone.
Cruises – No online booking fee
Travelocity Cancellation Fees – No fee charged by Travelocity for most cancellations, however vendor fees will still apply and some bookings are non-refundable. Vendor cancellation fees apply to all airline tickets, "GoodBuy" hotels and most non-prepaid hotel bookings. Get insurance to protect yourself from cancellation fees at SquareMouth.com.
* Travelocity Fees listed here are based solely on research done by TravelSiteCritic.com, these figures may be inaccurate and are subject to change. Verify policies with Travelocity before you book. Please be aware of airfare taxes & fees, applicable to any booking that includes airfare.
PRICING
The pricing on Travelocity is competitive, with no booking fees on vacation packages. Stand-alone flight bookings are better made directly with the airline, however Travelocity is a good tool for finding the best prices.
REPUTATION
As far as large travel websites go, Travelocity has better customer reviews and less customer complaints here than their large competitors such as Expedia and Orbitz, however they are no where near reaching our Top 10 Travel Websites list, which brings their reputation into question.
UNIQUENESS
If you have a large family with 5 or more travelers, we love Travelocity for large families! It's really easy to pull up vacation rentals and large suites in your search, and Travelocity doesn't pull up a bunch of hotels with a maximum occupancy of only 4 when you have 5 people in your party (like many other travel websites do).
TRAVELOCITY CUSTOMER REVIEWS
Have you used Travelocity and have an experience to share? We want to hear it! Add your own review of Travelocity.com in the customer comment box below. All user reviews and comments are moderated by a human being and will be posted LIVE on TravelSiteCritic.com as soon as they have been reviewed by a moderation team member. Thank you for contributing to our great community!
IS TRAVELOCITY A GOOD TRAVEL WEBSITE?
Cast your vote for the Best Rated Travel Sites by clicking one of the dynamic rating stars for Travelocity below, or on any of our travel website reviews. Cast a vote of 1-star, 5-star, or anything in between. A customer rating of 1-star indicates you had a horrible experience, while a user rating of 5-stars indicates you had the best experience. The travel websites with the most 5-star votes end up on our Top 10 Travel Websites list.
Reviews Disclosure: Some of the links on this website are affiliate links. This means if you click on the link and purchase an item, I receive an affiliate commission. It doesn't cost you more money & supports our work on this website. Thank you! Read our reviews disclosure for more info.
Travelocity Reviews | Travelocity.com

,