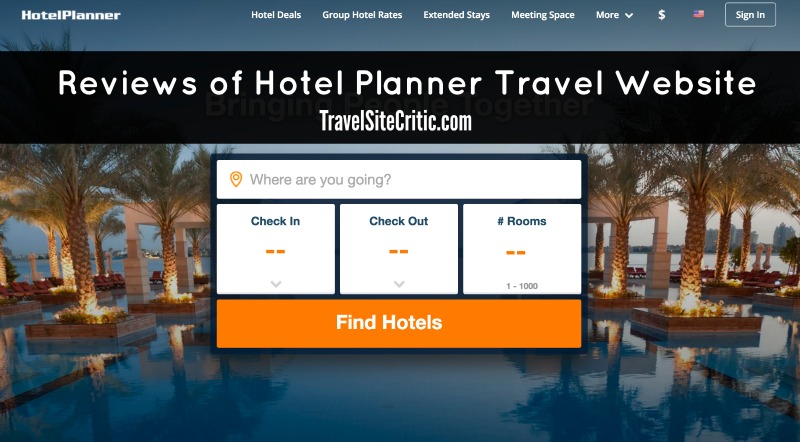 HotelPlanner.com specializes in online group hotel bookings in over 3,000 travel destinations. Ideal for groups that need 10-100 rooms per night for events, reunions, corporate conferences, business meetings, sports teams, parties and weddings.
How HotelPlanner.com works:
Simply input how many rooms you need, the destination, and desired price-range per room here. HotelPlanner takes it from there and submits your information to hotels who will bid for your business. You'll receive emails instantly each time a new hotel submits an offer for your group. HotelPlanner works with all the major hotels like Marriott, Hilton, Wyndham, Omni, Intercontinental, and Starwood, and we've seen rates as low as $20-$25 per night, per room (up to 70% off regular rates). You can negotiate better rates during the bidding process by declining to accept a bid. When you decline a bid, the hotel is notified and may choose to bid a cheaper nightly rate to earn your business. You'll be assigned a HotelPlanner account representative that will oversee the whole booking process and make sure that you get the right type of hotel for your event. Their service is so much easier than calling around to get quotes for your group, so it's an extreme time saver.
As the coordinator, you'll reserve a block of rooms for your guests, and everyone in your group is able to pay for their room separately. This makes it super easy for you, so you don't need to collect money or worry about who hasn't paid. What's really great is that group coordinators get their room for free at participating hotels. Your account representative can also nail down discount rates on airfare, car rentals, and meeting spaces for your group.
Hotel Planner's Guarantee:
They guarantee that they will match or beat any competitor's price when you book at least 10 rooms. The guarantee covers hotels that are "equal or greater quality", so it does not need to be the exact same hotel.
HotelPlanner.com Fees & Policies:
HotelPlanner.com does not charge you to use their site to book group hotel reservations, however you will be bound to the hotel's fees, taxes and cancellation policies.
What to do if you have a problem with your booking on Hotel Planner:
Contact their customer service for group bookings at 1-800-898-1347.
HotelPlanner.com reviews:
You can read customer reviews from people who have used Hotel Planner below. We've received a lot of positive reviews about Hotel Planner and not very many complaints.
Leave your own review of HotelPlanner.com!
Have you used Hotel Planner and have an experience to share? We want to hear it! Add your own review of Hotel Planner in the review box below and on Facebook. All customer reviews are moderated by a human being and will be posted LIVE on TravelSiteCritic.com as soon as they have been reviewed by someone here on our team. Thank you for contributing!
Cast your vote for the Top 10 Travel Sites by clicking one of the dynamic rating stars for HotelPlanner.com below, or on any of our travel website reviews. Cast a vote of 1-star, 5-star, or anything in between. A user rating of 1-star indicates you had a horrible experience (it's the lowest you can go and brings down the total rating), while a user rating of 5-stars indicates you had the best experience. The travel websites with the most 5-star votes end up on our Top 10 List.
If you like these travel deals and reviews, follow us over on Facebook and say hello. We want to get to know you! Get the best travel deals sent to your inbox by subscribing to our newsletter here.
Disclosure of Material Connection: Some of the links in the post above are "affiliate links." This means if you click on the link and purchase the item, I will receive an affiliate commission. Read our review disclosure for more information.
Hotel Planner Reviews | HotelPlanner.com

,