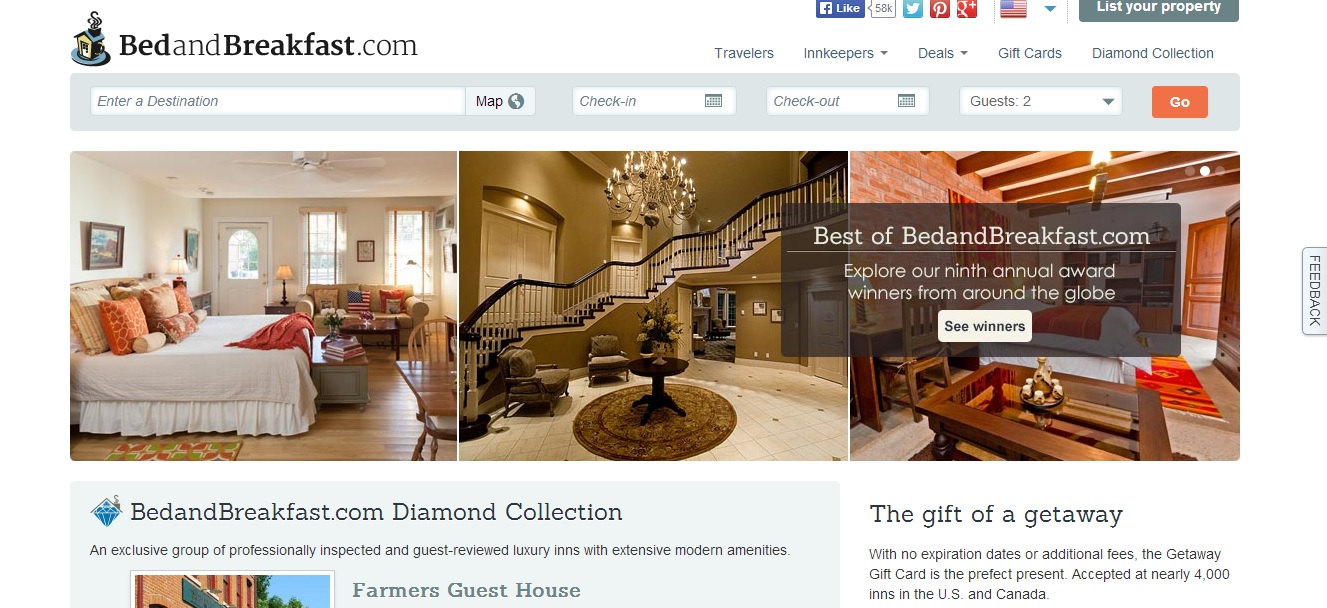 BedandBreakfast.com is the world's largest bed and breakfast travel website, with 210,000 customer reviews and over 100,000 property photos.  Online reservations are available on rentals of historic inns, guest houses, small resorts, ranches, farmhouses, and B&Bs.  They also offer exclusive pricing and the only travel gift card accepted at 4,000 B&Bs worldwide with no additional fees or blackout dates.

USER EXPERIENCE

The property descriptions and photos found on BedandBreakfast.com are very informative.  We also found a plethora of guest reviews and ratings, which are very helpful. You will find at least 4 photos of every BedAndBreakfast.com property. Also included with each listing is information on the Innkeepers along with the languages they speak, which you may find important when traveling internationally. We also find the BedAndBreakfast.com search engine very user friendly with a clickable map that is super quick. Some are the properties are bookable directly on the BedandBreakfast.com website, while most provide you a link to book directly with the property.  It may be a bit confusing to some customers when they get redirected to another website.

FEES

BedandBreakfast.com does not charge a booking fee for online reservations made on their website. Cancellation fees vary per property and are disclosed on the final booking screen.

PRICING

BedandBreakfast.com has a regularly updated page with their current coupon codes and exclusive online specials, which is definitely worth checking out.  For instance, today we found on this page that we can get a free $25 Getaway Gift Card with any reservation when we use the coupon code provided.  We like that they feature a "Best Price Guarantee" on their website. The BedandBreakfast.com Guarantee states that within 24 hours of your booking, if you find a better price for the same room, on the same dates, at the same B&B, they will refund the difference to you. This guarantee only applies to reservations made on their website.

REPUTATION

BedandBreakfast.com comes highly recommended by The New York Times, Real Simple, Forbes, Time, Newsweek Travel & Leisure, USA TODAY and many other news sources.  We found few customer complaints about them online.

UNIQUENESS

The "Getaway Gift Card" makes a great gift for friends or family members that are in desperate need of a vacation.  At certain times of the year, they throw in free gift cards with your reservation.  Visit the "Deals" tab to see what they are offering today.  The BedandBreakfast.com "Diamond Collection" is a group of the best customer rated luxury Bed & Breakfasts and small inns.  We were impressed with the selection that we found here, along with prices that is less than major hotels.  These can be found under the "Diamond Collection" tab.






Reviews Disclosure: Some of the links on this website are affiliate links. This means if you click on the link and purchase an item, I receive an affiliate commission. It doesn't cost you more money & supports our work on this website. Thank you! Read our reviews disclosure for more info.
____________________________________________________________________________________________________________
Bed and Breakfast Reviews | BedAndBreakfast.com

,