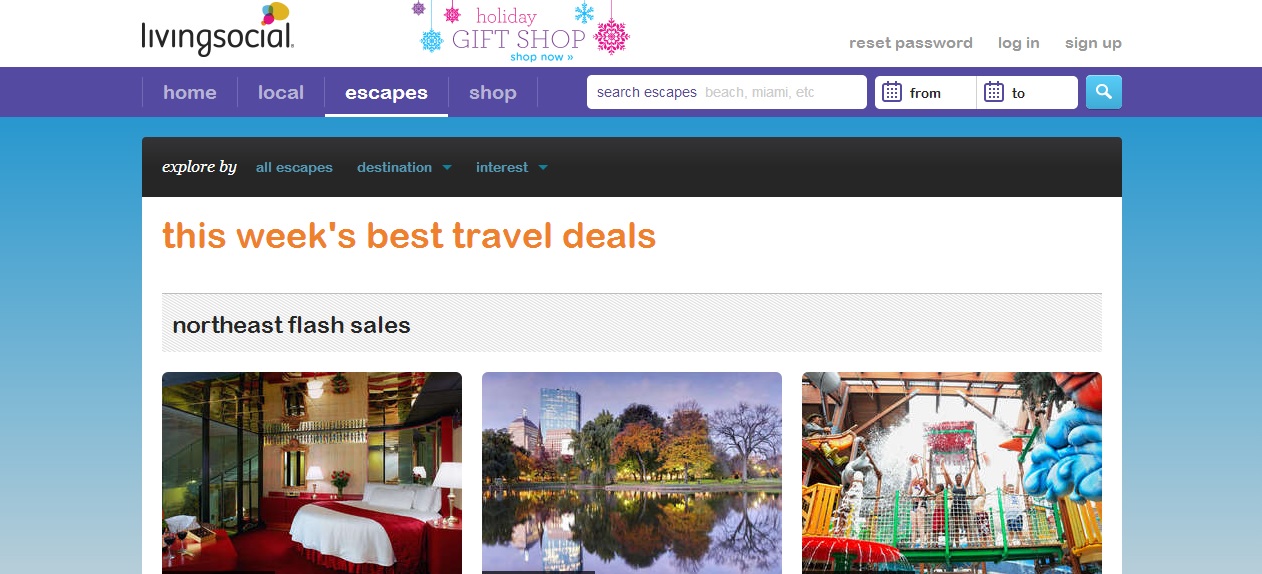 Living Social Escapes offers discounts of up to 70% on hotels, vacation homes, resorts, airfare and travel tours in locations within the United States and internationally.  Share your deal with friends and family for the opportunity to receive your escape voucher for free. 

USER EXPERIENCE

On Living Social Escapes you can quickly search by destination or by interests (such as family vacations). The deals are presented in Pinterest-style fashion with large pictures of the property along with the price and percentage discount clearly displayed, which is great if you a visual person.  Each property page has several photos, and some include helpful reviews. You will find how much time is left to book the deal, and the voucher terms are easily found at the bottom of the page in the "Fine Print" section.  Overall, the Living Social website is very simple to use with a minimalist design.

PRICING

We scoured the listings for the largest advertised Living Social Escapes discount and ran a test.  This particular Living Social voucher was good for a 3 night stay at the Moonstone House on the beach for $299 (plus in the fine print, an additional $34 in taxes and a $125 cleaning fee) for the total cost of $458.  Living Social advertised that this deal was a 58% savings.  We clicked on over to the property's website to compare this with the regular pricing, which was much higher than we expected.  The regular price is $295/night mid-week during the off season.  If we were to book 3 nights it would cost us $1,105 (including the 11.4% taxes and cleaning fee).  This Living Social Escape voucher is a 60% discount from regular prices, which is pretty impressive.  We conducted several more tests with similar results.




FEES & REFUNDS

If you book a regular (voucher based) Escape, you have 30 days to return an unused voucher for a full refund.  Beware that after you redeem a voucher, by contacting the property and making your reservation, you can no longer return the voucher to Living Social even if it is within this 30 day window.  You may be able to cancel directly with the property, as you are subject to their policy.
If you book a "date-specific" Escape, this generally means that you booked a hotel directly on the Living Social website instead of purchasing a voucher.  These types of Escapes are not refundable, and you are subject to the cancellation policy identified at the time of booking.

REPUTATION

Living Social Escapes have few customer reviews online, so it appears that not too many people are taking advantage of the travel deals found here.  We found some reviews that were basically complaints about the hotel property, but not about their Living Social experience.  One valid complaint about their services is that the Escape vouchers do not provide you with an availability calendar, nor do they provide you with a guarantee of availability.  You only have 30 days to call the property to confirm availability and redeem your voucher. If availability is not found, you can return the voucher to Living Social for a full refund during those 30 days.

UNIQUENESS

The best part about Living Social Escapes is the opportunity you receive after you buy a voucher.  Share your Living Social deal with your friends, family, neighbor and everyone you know, because if three of your friends buy the same voucher you get the deal for free!   The catch is that you need to share the exact link they provide you after purchase, and your friends must book through that link.  This is easy to do on Facebook, Twitter, Pinterest and email.



Reviews Disclosure: Some of the links on this website are affiliate links. This means if you click on the link and purchase an item, I receive an affiliate commission. It doesn't cost you more money & supports our work on this website. Thank you! Read our reviews disclosure for more info.
____________________________________________________________________________________________________________
Living Social Escapes Reviews

,